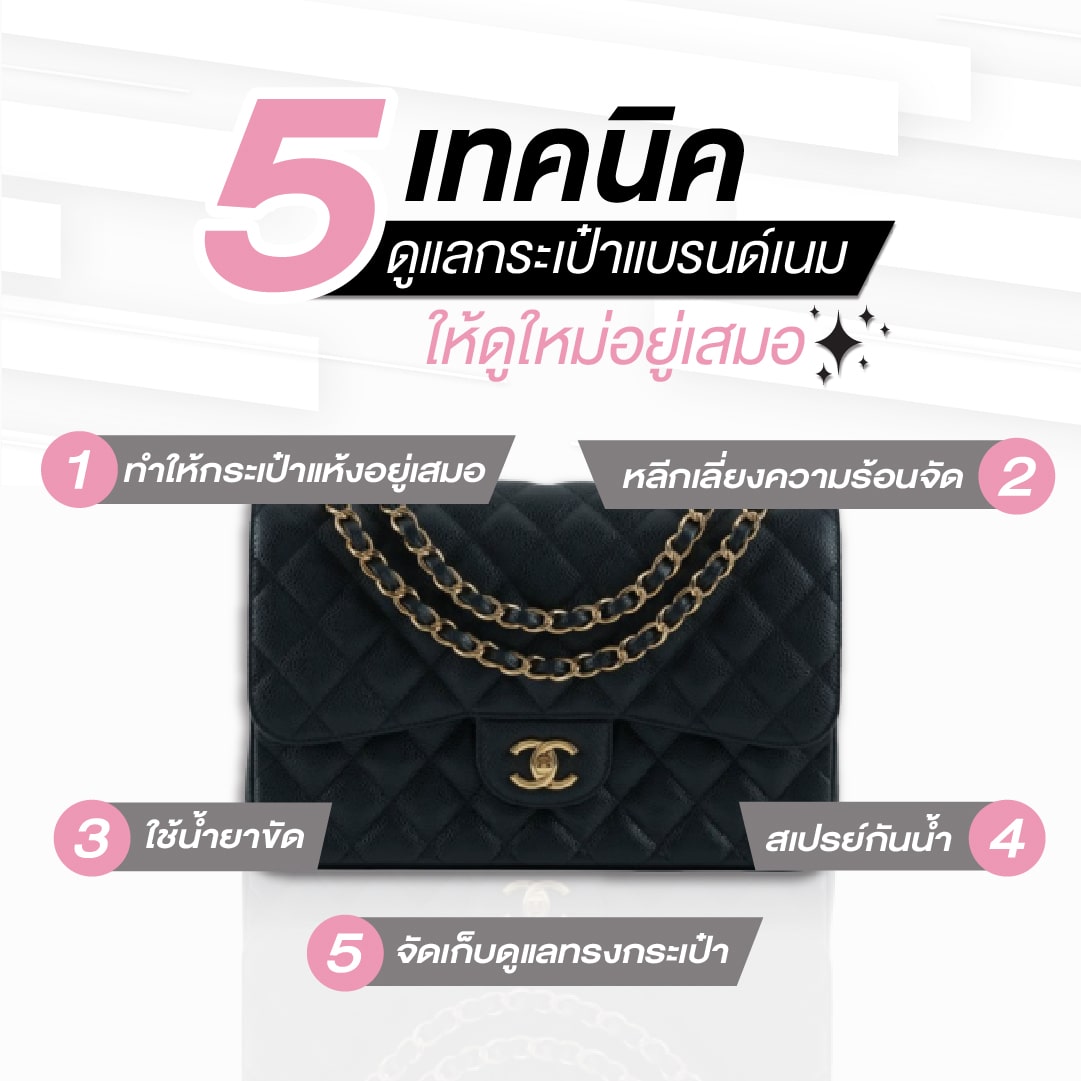 5 Secrets to take care of designer handbags in the same way as bag spa salons
"Bags" can be considered as one of the favorite items for young people who love luxury brand names. which if to mention In addition to having a high price that comes with a design that is so beautiful that it can indicate the identity of the owner. Did you know that Most designer handbags are also extremely? But the service life depends on the stitching, leather quality, and usage behavior as well. Especially if anyone is a fan of designer handbags as well. If your favorite bag accidentally gets scratched and dirty. There may be concerns that your favorite bag will be damaged and run out of price. They also don't know how to take care of designer handbags . To come back to look as beautiful as before. So, if anyone is facing this problem, today SF Brandname will tell you some secrets to take care of designer handbags to make them look good and always look new. Let's go see!
1. See what kind of dirt it is.
An effective way to clean a branded bag starts with knowing the type of stain that is stuck on the bag. which for the most part If the stain is wiped off as soon as you see it. It may cause the bag to not scratch or leave a stain. But if you are not careful, various stains can scratch your favorite bag. The types of stains can be divided as follows.
1. Water stains or sweat stains
The first frightening types of stains for leather bags are water and sweat stains. which for the most part These stains are stains caused by prolonged use. Or it may be caused by the rain in the bag. If left untreated Sweat stains will become salt and can bite the ear of the bag. Or if left for a long time, water stains can cause stains on your favorite bag as well.
2. Dirty stains, dust stains and black marks.
These types of stains often look like black marks along the edges of the bag. which in general Owner can wipe clean immediately. But if left, these stains will eat the skin of the bag causing stains, so if you find it, wipe it off immediately.
3. Pen stains
The stain on the pen in the handbag is a stain that many spa salons do not accept because the pen has its own chemistry. If using deletion techniques or have a way to clean designer handbags that don't take care of the bag texture It may cause the bag to be stained. And if the bag is also a special color, then it may need to be painted in additional colors as well.
4. Scratch
Scratches on the body and edge of the bag can be caused by a number of factors, such as touching jewelry. Accidents from use, such as walking into things or people colliding, etc., most of the time, if these types of scratches occur If there is no deep cut into the flesh or leather of the bag, it can be removed.
2. Choose the right cleaning method for the type of leather
In addition to understanding the types of stains and basic solutions if they occur. How to properly care for a branded bag must also take into account the type of leather bag used. In addition to the stain will not come out. The bag may also be scratched or dirty more than before. SF Brandname would like to collect how to care for each type of leather as follows.
1. How to care for sheepskin bags
in general Sheepskin bags from famous brands such as Chanel or Mulberry are unique in their fluidity, shine and softness. But no matter how beautiful and special Suede is a very delicate bag leather. If we find stains on the sheepskin, what should be done is to find a damp cloth to wipe as the stain occurs. And wipe the water stains off with a dry cloth again. Importantly, if the bag is damp, it should be dried before being stored. Otherwise, the leather may deteriorate and become moldy. and when all stains are cleaned Be sure to apply the leather coating and wipe it off before storing.
2. How to care for genuine leather bags
When touching a genuine leather bag, it gives a soft feeling while being durable at the same time. If there are stains and need to be cleaned, the first thing that SF Brandname wants all owners to pay attention to is humidity and temperature. if you want to store or clean Choose a location that is neither too hot nor too humid to prevent the leather from deteriorating. The owner of the bag can use a damp cloth slightly moistened with water to wipe off the stains and quickly use a dry cloth to wipe it dry as possible, but most importantly! Leather bags are easy to pick up on paint and stains, so they need to be cleaned immediately after stains are found. or after use
3. How to care for synthetic leather bags?
Synthetic leather bags are easy to care for and clean. But even so, it doesn't mean that we can put the bag in the water at all. which if the stain is found when The owner can use a damp cloth to wipe the stains out. Then put it to dry in the sun to allow the bag to dry.
4. How to care for a leather bag?
Leather bag It is considered another type of movie that has been very popular. because in addition to being shiny Leather bags can also help adjust the look of the owner to look luxurious and premium as well. But what to be aware of when using a leather bag is that this type of leather absorbs more easily than other types of leather, so the best way to prevent a bag from absorbing stains is if stains or stains are found. Must use clean water immediately. and if plain water doesn't work The owner can gently sprinkle the glass cleaner and wipe away any stains immediately, but only if the wipe is done. need a dry cloth Wipe it dry completely to prevent another water stain.
5. How to care for suede bags
If any young person is fond of suede bags as their soul. Be careful of water stains and stains on the leather. because of this type of movie Able to absorb water and absorb color well. Therefore, the way to prevent the bag from absorbing paint and stains is to use a suede cleaner to clean. Then wipe dry with a dry cloth to prevent stubborn stains.
3. Always keep the shape of the bag
When properly cleaned It's also important to store designer handbags when they're not in use, so if you don't want the bag to lose its shape and be able to use it as if it were a new purchase, get something soft like a sponge, cloth, or paper. Fill the bag fully to help reduce any creases that can cause the leather to deform. It also helps to reduce the problem of sagging bags. and does not restore the image when used for a long time as well
4. If you put a cabinet, place it at a distance. And don't forget to put it in your bag every time.
But before putting your favorite bag in the closet Another way to store designer handbags that will help maintain the leather condition and shape to stay with us for a long time is to put the bag in the bag bag that the brand comes with. And place the bag on the shelf so that the bags will not overlap. Also, the moisture-proof envelope must be put in the bag every time before storing, which these methods will help bags with different colored materials. Colors do not fall on each other, and most importantly, owners should store the bag in a well-ventilated area to prevent mold and dampness.
5. Complete care in one step with bag spa
But if any owner does not want the bag to look deteriorating quickly But there is no time for comprehensive care Or if your favorite bag is now starting to wear out and needs repair? Making a bag spa is another secret to take care of designer handbags that should not be missed. because in addition to saving time Some stubborn stains that cannot be removed by themselves will be treated. They can also repair and take care of the bag to look like new without being tired and worrying about the bag being damaged or not.

How are you doing with the 5 secrets to take care of designer handbags that SF Brandname has brought today? But if anyone finds a stubborn stain that can't be removed or encountering a problem with a bag that is scratched and difficult to paint If anyone is facing these problems and wants to find a place to get a good bag spa, ready to teach you how to properly take care of designer handbags , SF Brandname is ready to give advice and service every step of the way. Ensure that every stain Any damage will be handled by a professional. You can contact to make a bag spa at
Facebook: sfbrandname
Line: @sfbrandnamebkk
Phone: 08-2676-9094
If you want the shop to evaluate the cleaning. or consulting various stain problems by an expert You can bring your favorite bag to our experts at SF Brandname in 101 True Digital Park, next to BTS Punnawithi Station at any time of the day.